If you want to book any of our wrestlers, then please contact our booker HUMUNGUS

---

official statement from HUMUNGUS about WSA joining WUW (in german & english - click here)
Since 1.1.2012 WSA is part of the international federation WUW
12 nation - 1 idea ! NO RING ! NO PINFALL ! win only by submission or knock out !
WUW-Branch-Chiefs

France - Japan - Austria - Spain - USA - Nepal - Nigeria -Thailand - Canada - Sri Lanka - Australia - Belgum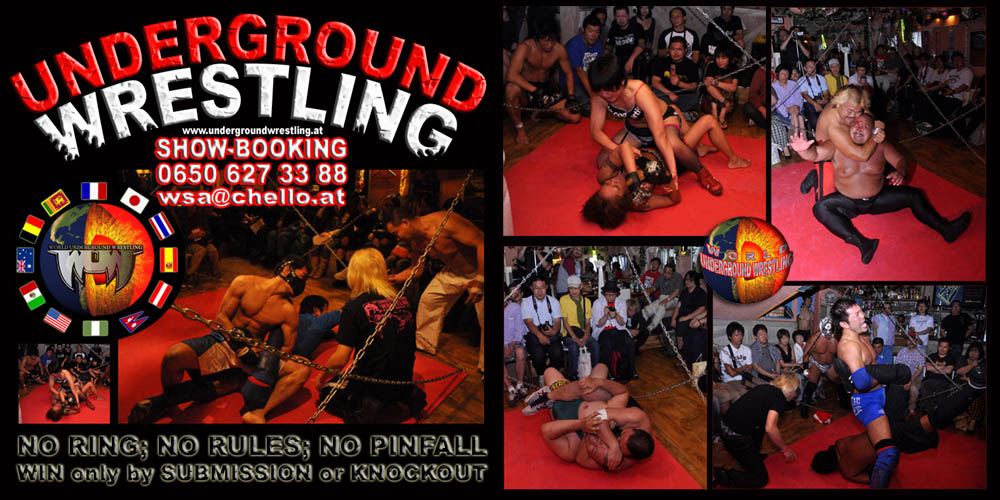 The WSA – Wrestling School Austria was founded on 1. December 1998.
Pro-Wrestling is noticed by a growing number of people in the last years – also featured by numerous TV-Shows.
We are specialized in organizing underground-wrestlingshows.
For this, we have more than 30 pro-wrestler and martial artists under our contract.

The price for one show starts with € 300,--
(depending on the lengh of the show, the number of participants and the scale of the light-, sound- and spezielleffects).
Because the Pro-Wrestler dont fight in a ring anymore,
now an WUW-Show can be booked for smaller locations,
like birthdayparties, discos, actually to all occasions.
There is the possibility to rent single wrestler or martial artists for advertising.
Get to "SHOW-Kalender" , to take an insight into our former productions.
Click "here" , for our Video-Clips.
For more information please call HUMUNGUS ---
Training
The WSA is the first public organization in Austria, in which everybody (man and woman) can learn the art of Pro-Wrestling, independently from weight, height, age, ore sex.
Besides a number of spectacular moves - known from TV –, this kind of training offers falling-techniques, look- and throwing-techniques, groundfight and submissionholds.
With enough diligence, some actor's talent and the appropriate physical fitness, a membership in our showteam, including the appearance in our shows, with public media-presence will be offered.
This education also offers the chance, to work as a stuntman or fight-choreograph in film- and show-business.
Self Defense
Pro-Wrestling is one of the best basis for self-defense.
Power, stamina, flexibility and timing will be trained in a highly standard.
The danger of hurting yourself during a fall, which often is the result of a powerful attack, will be minimized through training of falling-techniques.
Finally the regular training forms the body, helps to relax and gives a lot of fun.
We are glad to see you on a free tryout-training.
Goal
WSA-Pro-Wrestlingshows try to be a fixed point in the "vienna eventscene", like the "Heumarkt" till a few years ago.
Starting in 2003, there are now regular Pro-Wrestlingshows in Vienna again.
The storylines are prearranged till Dezember 2015.
Sponsoring
To engage wellknown Pro-Wrestler for the shows, to pay the location and the propaganda, to ensure the high standard of the shows, with videobeamer, light-, sound- and specialeffects
and to encourage the new blood of austria, we are searching for sponsors, who back us so with money or equipment.
Furhtermore there is the possibility to encourage directly your favorit Pro-Wrestler with "PERSONAL-SPONSORING", so he (she) will have more time, better conditions to train and more independence, so he (she) can increase his (her) top-performance to a much higher level.
Consideration
Refferees, Ringanouncers, ohter Officials and the Securitygroup will wear propagandamarks according to your request. Advertising space in the location and around the ring will be offered.
There will be prospectly 100 - 1000 spectators to each show and the media evinced big interest, so there will be a big advertising effect.
From 2006 untill 2012 we had our own TV-Show (Wrestling Fightnight) on OKTO-TV.
Since 2012 we produce Wrestling Fightnight for Youtube.
If you want to watch all episodes, just click here www.youtube.com/wsahumungus
For more infos ask HUMUNGUS +1 43 650 627 33 88 or wsa@chello.at
WSA-Trainingscenter: Austria - 1020 Vienna, Hofenedergasse 3